Truss types.(definition: a structure comprising one or more triangular units constructed with straight members whose ends are connected at joints referred to as nodes).
Here are a few basic truss types, although most of what we do involves huge modification to the basic shape through cutting, asymmetry or due to changes in shape (e.g. roof lights, dormers etc etc). Click through the images or call in to discuss your project.
Standard Trusses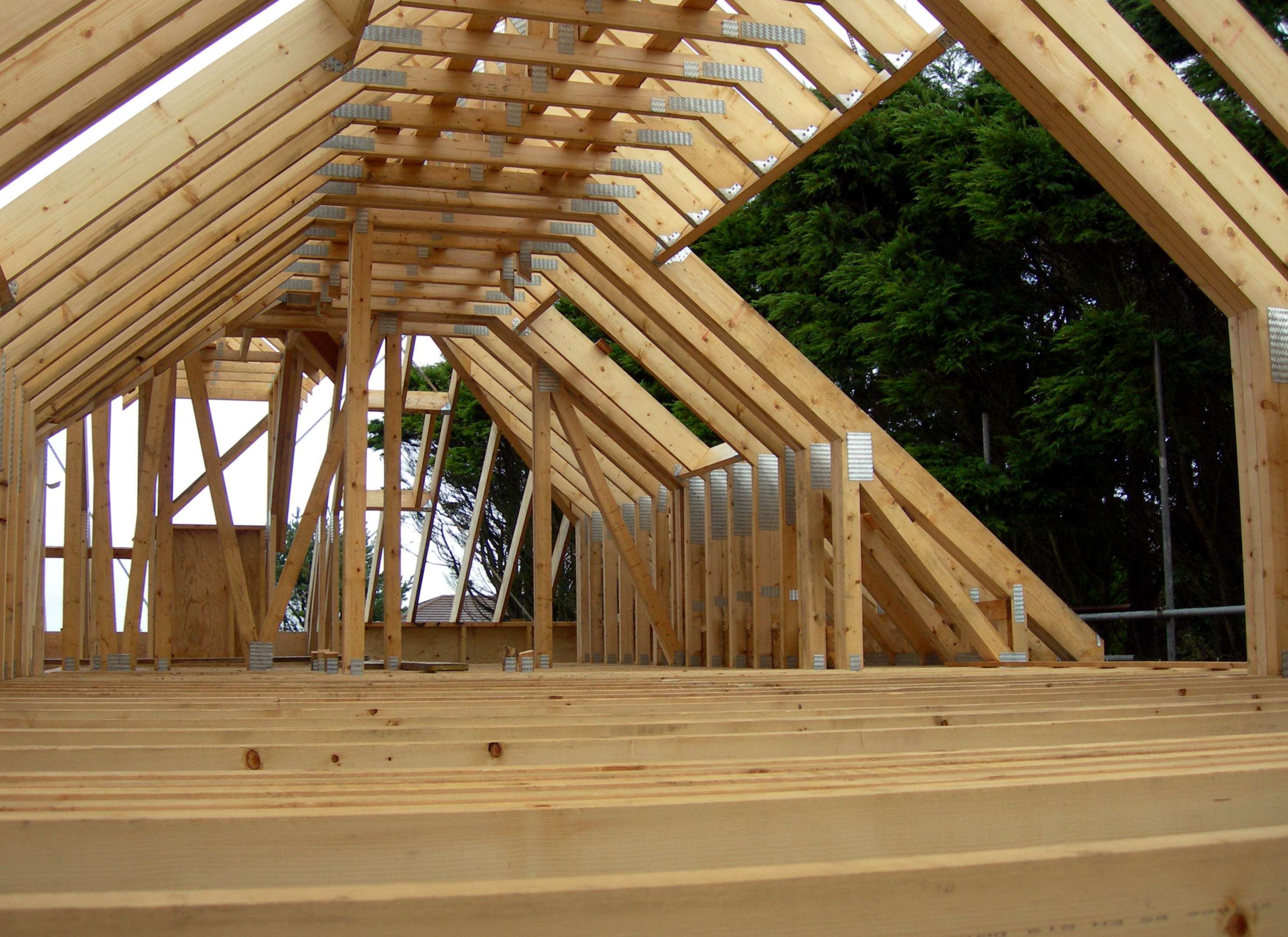 We can help to design the most cost-effective structure, manufactured to the highest standard; from standard trusses to the most complex Room in the Roof.
We are members of TRADA and hold third party accreditation for quality control, design and manufacture of all of our products, including timber frame panels, with CATG certification. This makes us fully compliant with new-build warranties. Please see our links page for relevant certificates.
We offer the following services:
Detailed CAD drawings, showing roof layouts and position of every itemised component
A complete package for Room in The Roof schemes, including dormer cheek panels, fire blocking and many other items required for full Building Regulation compliance
Exposed Principal Trusses
Exposed Principal Trusses are designed to carry the roof load whilst leaving the inside of the structure exposed to the room below. Basically, the rafters take the roof load onto the ridge beam, and the trusses carry the ridge beam over a spacing of 2~3m, depending upon the load duty.
To enhance the open space within a room, whether it is a barn conversion, modern build or a conservatory sun-room, our principal trusses are delivered in a cleaned, stop-chamfered state, suitable for staining, varnishing or just natural wood.
We can manufacture in a wide range of timber products, from Glulam to Green Oak, or to a Structural Engineer's particular design requirements – we treat every job individually, with cost, structure and aesthetics being the three overriding factors.
On bolted trusses we are now able to offer steel connecting plates with a range of decorative designs. Please contact us for more information.